Critical Care Corner: Delilah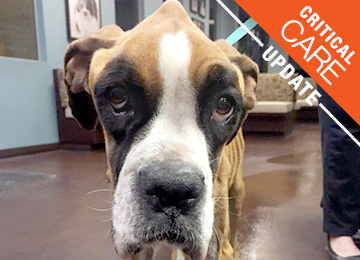 Delilah was abandoned at a Phoenix animal clinic
ABC rescues animals regardless of their medical condition. Many times an animal needs surgery or extended medical care before they are ready for adoption. Our Critical Care Corner will keep you updated on these special needs animals.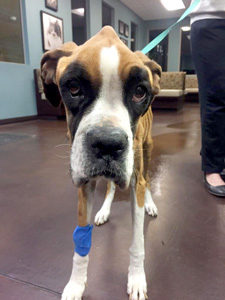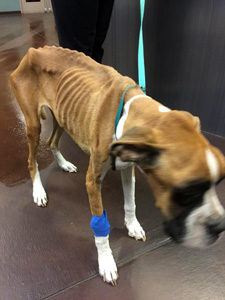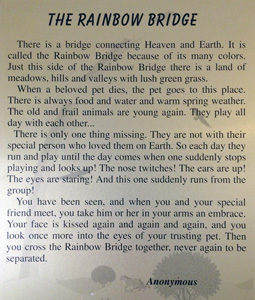 ---
A beautiful Boxer named Delilah was abandoned at a Phoenix animal clinic by her family this past Saturday (January 13). ABC was contacted to see if we could help this sweet angel. We quickly agreed and hospitalized her for testing and treatment. We're currently awaiting test results to determine her medical condition.
Despite her situation, she is fighting to get better and continues to be the sweetest girl! Everyone at ABC, along with the doctors, vet techs and emergency staff are rallying behind this amazing girl.
Tune in for live media coverage on Tuesday, January 23 with 3TV at 8:30 a.m. and Fox 10 at 9:45 a.m.; 12 News will air the piece during the evening news. Click to watch the videos:  3TV – CBS 5  /  Fox 10  /  12 News
You can help Delilah with a tax-deductible donation. Please click the blue donate button to the right (scroll down if you're on a mobile device) and complete the transaction via PayPal or mail a check payable to Animals Benefit Club to 3111 E St John Road, Phoenix, AZ 85032. Please include "Delilah Critical Care" in your PayPal or check description.
Delilah's Progress Updates
Update 1/19: Delilah's test results show she has a severe case of Valley Fever, a fungal infection commonly seen in the desert Southwest. ABC has treated many Valley Fever cases in dogs, but Delilah is the worst case yet. Given the severity of her symptoms, Delilah's medical team estimates she went undiagnosed for over a year. Treating her will require a minimum of six months of ongoing medical supervision and consistent treatment; we estimate her expenses to be around $5,000.
Update 1/24: Delilah met with a specialist for her ultrasound.  The ultrasound showed 1-2 areas that need monitoring, but otherwise our sweet girl was given a good prognosis. The specialist recommended a more aggressive treatment, so over the course of the coming weeks Delilah will receive a series of six intravenous infusions of medication. The good news is, even though she's still weak, she perks up when her four-legged patient friends pass by.
Update 1/25: Diamondback Drugs, our long-time pharmacy for compounded pet medications, has offered to donate all of Delilah's medications! We're very grateful for all of their products that have helped to improve the lives of our rescues over the years. Thank you Diamondback Drugs for helping make a difference for Delilah and many others like her! Click to read their Facebook post
Update 1/27: Sweet Delilah has started intravenous infusion treatments of a very aggressive drug to attack her Valley Fever. She is currently in a 24-hour facility under the careful watch of doctors and vet techs to monitor her blood pressure and lab results. Please keep her in your thoughts and prayers as this is a very aggressive treatment protocol, but considering her condition it's the best option we have at this time. It is, however, very difficult on the patient. We will keep you updated as she has five more treatments over the next two weeks.
Update 2/3: It is with much sadness that we need to let everyone know that sweet Delilah has crossed the rainbow bridge. In spite of hiring the very best veterinary professionals and hospitals she was not strong enough to withstand the aggressive treatments required to save her life. Our hearts are broken. She was loved by so many people who never met her but cared so much. We were with her to her very last breath and take consolation in the fact she knew she was deeply loved. We appreciate all your support, prayers and love throughout this difficult time. Thank you for your understanding and patience as we continue to process this heart breaking loss. We will share another update in the near future.
Thank you!