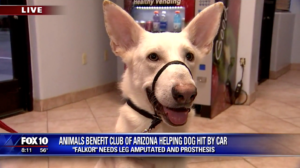 Falkor Needs Prosthesis After Hit-and-Run!

This gorgeous big shepherd, named Falkor, was the victim of a hit-and-run in the Southwest Valley of Metro Phoenix and was left to die in the street. He was rescued by a police officer and Animals Benefit Club of Arizona (ABC) had him taken to Phoenix Veterinary Referral and Emergency. Sadly his leg could not be saved and required amputation. Falkor has since been placed in a foster home and is doing great.
However, he needs to be fitted for a cart to improve his mobility and help redistribute his weight. We need your help to raise $2800 for this beautiful dog!
If you'd like to help Falkor get his cart, click the donate button to the right. You can also mail a check to 3111 E. St. John Road, Phoenix AZ, 85032.
Thank you to Anita Rowan and the Fox 10 Phoenix team for the great coverage on their Arizona Morning show. Watch the news clip here.
Thank you for your support!
Save
Save
Save
Save