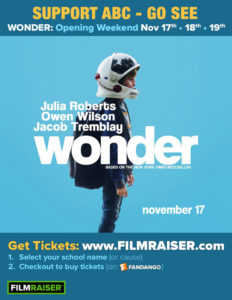 Go See WONDER Opening Weekend!
WONDER will donate $1.00 from every opening weekend ticket to ABC! This film is selling out, don't wait!
Buy tickets and select Animals Benefit Club of AZ—you will checkout via Fandango.
Any WONDER ticket bought before Sunday, November 19 at Midnight counts, including showtimes on future dates!
This FilmRaiser event is for any movie theater in the U.S. where tickets can be bought on Fandango, so please share with your friends and family!
Save